It seems obvious that great beers are a natural compliment to great food…but how do we know what beer goes with what dish? Too many times I have ordered a beer that "sounds" like it should go with a certain dish, only to find the beer either competes with the dish, or just plain doesn't work, ruining both the food and the beer experience.
So, how does one decide? Here is a basic guide:

I have made it a habit to look for food/beer pairings before going out. It adds to the adventure and can make dinner more adventurous and fun.
At a recent tasting at Lou Reda's: An American Table, Chef Justin Gaines was trying our Rising Sun Coffee Cocoa Stout and quickly ran to the kitchen in the midst of the tasting. He returned with a tiramisu and we all dove in once we realized he had made a genius connection!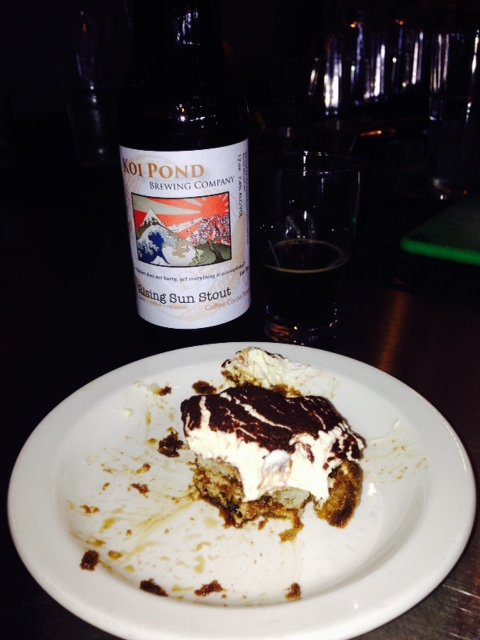 We proceeded to destroy the tiramisu…and a few Stouts.
My point is…with a little knowledge, an adventurous heart and a few partners-in-crime new and exciting pairings are your to discover.
Stay tuned – Specific food/beer pairings is an area we are sure to spend some time exploring as we expand both our line-up and our fan base.
From the very beginning of Koi Pond our beers have always come from a culinary place. Great thought and research goes into how and where our beers will live on a table full of food. This is who we are. This is how we brew.
Cheers!
Eric