In Water there is health. In Wine there is truth.
In Beer there is Joy.
Friends and fellowship often lead an individual to creativity. For Eric Ghiloni, these experiences led to the start of Rocky Mount's first craft brewery, Koi Pond Brewing Company.
A hobby starting with a single request from one of Eric's friends has evolved into a new business, which is supported by several other friends and family.  The company is in the process of taking the steps necessary to become an active distributor and seller of locally-made, premium craft beers.
"I had a friend, Jeff May, who asked me to make some beer," said Ghiloni, who has been well known by family and neighbors for his prowess in the kitchen. "I was at a point in life I wanted to try something new, so I bought a homebrew kit and made up a batch."
"Jeff told me the brew was the best he'd ever had for a beginner," Eric said. "My mind raced with enthusiasm and ideas from that single, heartfelt compliment."
For more than a year, Eric has been brewing a variety of recipes, developing a catalog of IPA's (Indian Pale Ales), Witbiers, Stouts and other flavorful, deep selections. Eric's had no problem encouraging others to try out his creations and offer essential feedback.
"The response has been overwhelming," Eric said. "There is a strong foundation for support of products like these in Rocky Mount, and an even stronger desire to see local businesses start up and become part of the action."
Recent reports indicate more than 3,000 craft breweries currently in the United States, more than anytime since the 1880's. More than 120 of these breweries are based in North Carolina, which has become one of the epicenters for this evolving movement.
With each new brewery comes a name, and Eric's choice reflects his deepest personal connections.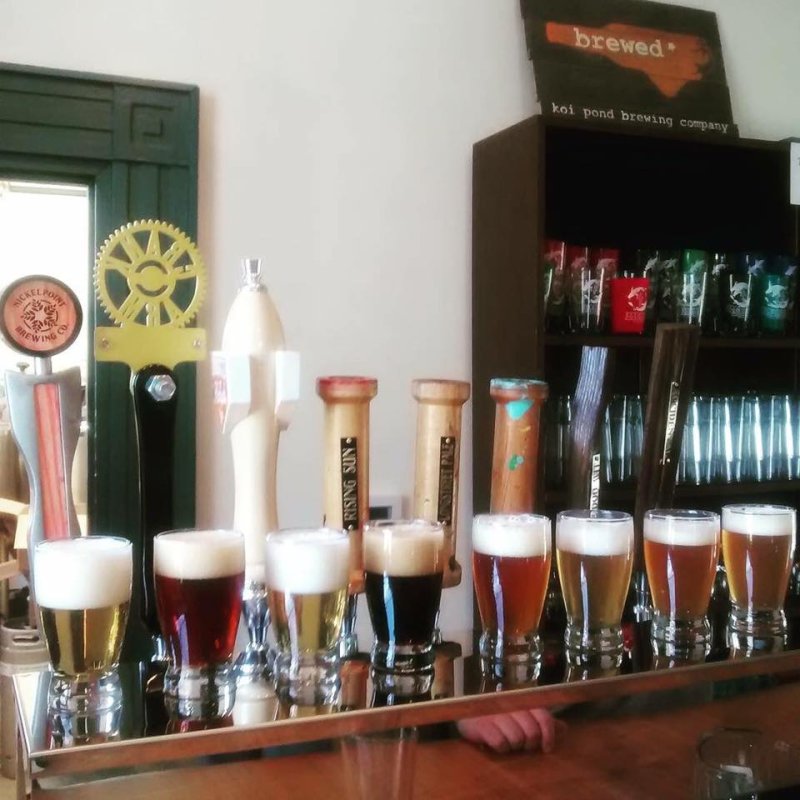 "I literally wear my life and heart on my sleeve," Eric said, pointing to two tattooed koi fish on his left arm. "(The fish) represent my two sons, who are responsible for the greatest joy in my life and provide the harmony, symbolic to many with Koi, that each of needs to succeed and do good."
Eric's passion for his new venture has extended into a partnership making Koi Pond Brewing's potential even stronger. Long-time friends Matthew and Deborah Sperati of Rocky Mount, along with Eric's wife, Mary, developed a partnership providing unique perspectives they believe can help build a more successful business.
With our mix of product and branding, we strive to make beer and labels that are artistic, intellectually witty and appeal to both genders.  When a couple comes to a bar, our beers will appeal to both of them. We don't want him to get a beer and her, a glass of wine.  Our beer flavors, labeling and marketing will make us the perfect solution for a craft beer drinker (or non-craft beer drinker) that wants great beer and a company they can stand behind.
While the partnership has easily learned to enjoy the fun and work associated with brewing, they have also endured a crash course in the challenge of turning this hobby into a successful business.
"I've learned a great deal about the regulations involved in the brewing business at the local, state and federal levels," Eric said. "Understanding the need for many of them, I look forward to helping others work through the process in the future."
"There is plenty of opportunity out there, especially in the Rocky Mount area. My partners and I want to see Koi Pond grow, and we also want to see the establishment of other local breweries and supporting businesses."
Koi Pond Brewing took a major step recently with the opening of their new production and bottling facility on South Grace Street near Downtown Rocky Mount. At this point, they anticipate having the necessary permits and approvals to distribute and sell beer to customers later this year or early next year.
"Until then," Eric said, "we'll be sharing a lot of beer."